One of my newest clients is designing their steam shower and home with a little help from me. I sent them a link to my shower bench design book and they picked out some bench styles they both liked. the purpose of this one little step was to place the drain in the right spot. The shower bench can really affect the grading options on the floor so one choice affects the other.
I received an email back to review some of the key points we discussed on our first design meeting.
Instead of calling back - I'll share this back and forth here in the hopes of show casing how these design calls work. My text will be in Black and my clients I'll make the
purple colour.
"...Here is a summary of the phone call…does this seem accurate?


Regarding the benches, we like the idea of a two tiered bench on the west side. There seems to be advantages of having a solid bench (I am not talking about the solid surfacing material, but under the seat) such as not losing steam to that area, not having to clean under the bench.
http://www.houzz.com/photos/113350/Pool-House-and-Wine-Cellar-contemporary-bathroom-nashville
(shown above in the photo)

..."
I agree. With that. Cleaning the under side is not a fun task at all and does add more surface area to the bench and walls. I like the benches shown but am un sure what they are made of.
"...But the idea of a floating bench is nice because of having a place for feet to tuck back into as well as the cantilevered look is a nice clean look.
http://www.houzz.com/photos/102654/A-COUNTRY-HOME-contemporary-bathroom-tel-aviv
(shown below in the photo)

..."
Benches like these are fairly simple to build but making sure they are strong enough is key. I like to design a bench like this with some pretty heavy steel and use it as a stiffening device for the

floating

look.
There is a lot more planning to a floating bench but they can be pretty slick. hard t clean the under side of the seat. One of my favourite showers has a floating bench installed off the wall. If you have not seen the "X rated" posts of mine - and want to analyze all your options you can take some time and research these top videos from 2013.
"....Another option would be to have a solid bench with the front being angled back…which I personally don't really like the look of:
http://www.houzz.com/photos/100500/Bathroom-makeover-eclectic-bathroom-los-angeles
(shown below)
...."
"....I would say that we are leaning toward a solid bench with a solid surface top. Thanks for the link to the pictures!
We have only 8'5" of finished height, so that would have to be taken into consideration when determining whether we can have a two tiered bench. ..."
None of these benches shown an arm rest nor do they show an angled back rest. Today I recommend this to all my clients but locally I have yet to built this for any. Many of the worlds
finest
steam shower and Hamman's share this

common

design theme.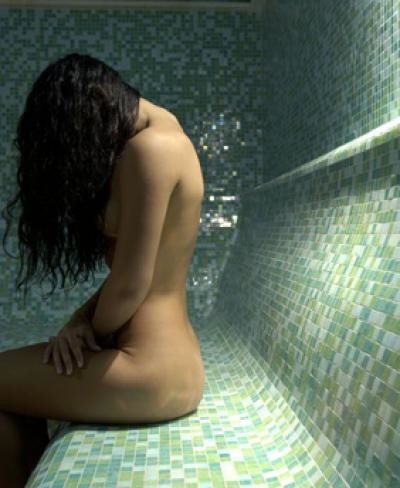 This is one of my all time favourite bench designs. I like the back support, the angled back. The grading for water run off and the arm rest up high. Another view of this style here. These images all taken from my Shower Bench Design IdeaBook.
SHOWER BENCHES - DESIGN IDEAS 150+ PICTURES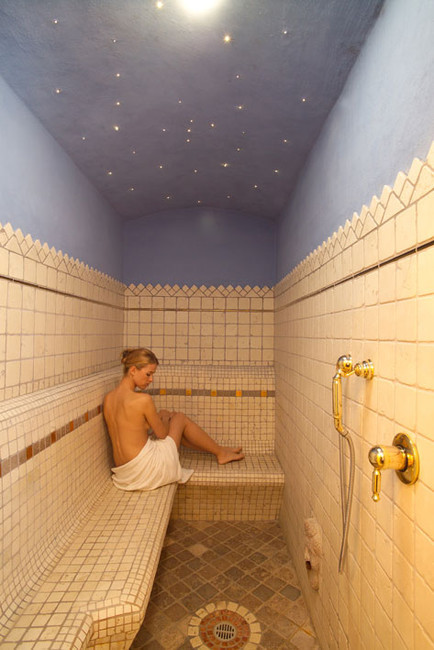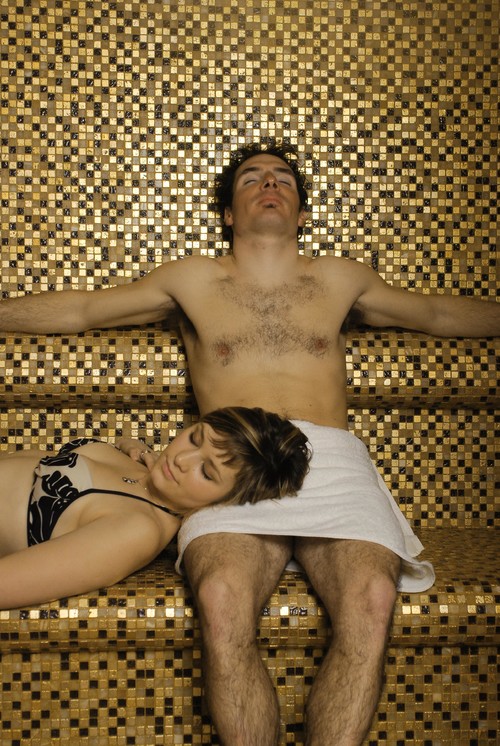 I'll sent a link to this new blog post and we can finalize the bench style. From that we can pick some heights and use this to place the drain. Currently the builder is getting ready to pour the concerte flooring and the radiant heating pipes. All the design elements not needed right away but the drain placement is needed sooner than later.
The shower I'm working on will be barrier free. And the tile size a smaller 2"x2" type tile. I don't always recommend linear drains and in this case or this job this was just the case. Every job is different - everyone unique in it's own way.
Had the benches been floating or if there was to be only one level we would adjust the position of the drain for this.